FOR IMMEDIATE RELEASE
Twice Divorced Conscious Dating Author Gets Married
Twice-divorced founder of Relationship Coaching Institute and author of the ground-breaking book for singles Conscious Dating used his own methods and is to marry soul mate at the end of this month.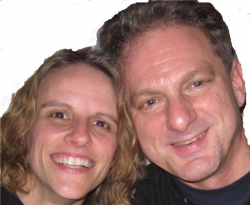 San Jose, CA, September 19, 2008 –(
PR.com
)– David Steele, author of Conscious Dating and founder of Relationship Coaching Institute, a pioneer in helping singles find relationship happiness, used his own methods to find his soul mate and is to be married at the end of this month.
A Marriage and Family Therapist who is a leader in the field of Relationship Coaching for singles and couples, he founded the Relationship Coaching Institute ten years ago, the first and largest relationship coach training organization in the world.
Married and divorced twice, the single parent of three children (including twin boys), David Steele published Conscious Dating after 8 years of research, training hundreds of relationship coaches who coached thousands of single worldwide, to learn how singles can find and have truly fulfilling and sustainable committed relationships. The second edition of Conscious Dating was released earlier this year.
Conscious Dating includes ten principles that help singles be clear about who they are, what they want, and how to get what they want in their relationships, including important concepts such as Vision, Purpose, Requirements, Needs and Wants. Steele encourages singles to "be the chooser," "don't settle for less than you really want," and shows singles how to avoid the deadly 14 Dating Traps. More than an advice book, Conscious Dating is a new paradigm for how singles can 'find the love of your life and the life that you love.'
Steele says "There are more singles today than ever in history. The great majority want to find their soul mate, but many have experienced failure and are scared and confused about how to find and have a successful relationship. As a marriage therapist it never occurred to me to work with singles. I now understand that 'singles become couples' and helping singles is the most effective way to lower the divorce rate and promote successful couples and families. Having experienced failure myself and using the principles and strategies of Conscious Dating to find my soul mate, I now firmly believe we have the key to promoting successful relationships and want frustrated, despairing singles be inspired and know that it really can happen for you."
To inspire singles and pass along what he learned in his own relationship quest David Steele published his Conscious Dating story and a no-holds-barred interview responding to questions from the member coaches of Relationship Coaching Institute at www.darleneanddavid.com.
David Steele and Darlene Cisneroz will be wed on September 27th at their home in Northern California in a small intimate ceremony with friends and family, followed by a honeymoon in Kauai.
###